About Us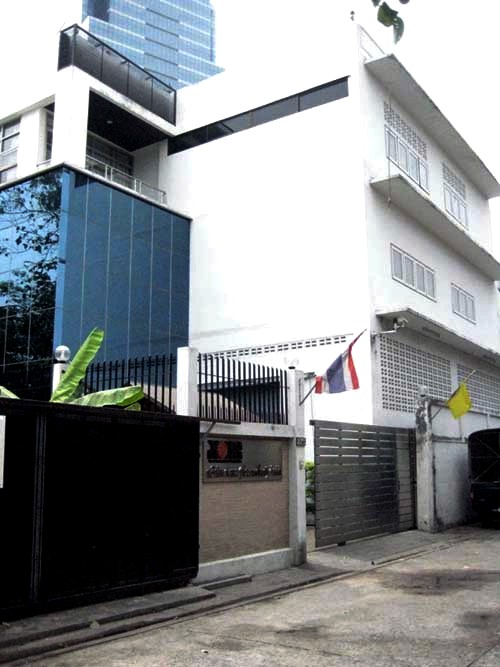 Company information
Establishment: Since 1952
YONG HONG (THAILAND) Co., Ltd.
Address: 27/10 SOI PRADIPAT10, PRADIPAT ROAD,
PHAYATHAI,PHAYATHAI, BANGKOK, THAILAND 10400
TEL: +66-2-618-3000 and +66-2-036-3000(AUTO LINES)
FAX: +66-2-622-7310 (AUTO LINE)
TAX ID:0105547008850
YONG HONG ENGINEERING Co., Ltd.
Address: 255/1 Charoen Krung Rd, Khwaeng Ban Bat, Khet Pom Prap Sattru Phai, Krung Thep Maha Nakhon 10100
TEL: +66-2-221-3440, 222-3214 FAX: +66-2-622-7310 (AUTO LINE)
TAX ID: 0105544053820
VISION
We aim to be the leader in industrial machinery in Thailand and step forward to international level together with developing the everlasting advancement.
MISSION
Being the leader in industrial machinery

Managing with corporate governance

Elevating to the international level

Continuously improving in human resources excellence, tasks excellence and organization excellence, thus bringing the wealthy to organization economics.
HISTORY
Establishment
After the Second World War in 1952, Thailand's economy and state of society was led into the major restoration together with various business recoveries. According to that period of time, industrial machines and tools from the war participated countries were numerously remained in our country which led to the beginning of our company. YONG HONG MACHINERY Limited Partnership was established for seeking quality machines to accommodate the needs of the industry. As the economy was revived, which led to the growth in industrial sector's business, YONG HONG MACHINERY Limited Partnership had received acknowledgement and acceptance from numerous customers. With experience and expertise accumulated from certain period of time, we developed from distributing used machines to importing and distributing new machines from overseas as one of the initial pioneers which were not extensive as present. We have been travelling to many countries for exploring the best quality machines because we believe that machines are the power in developing and the important underlying basis of all systems.
Development
After 2000, we developed from Limited Partnership to the establishment of the company as named as YONG HONG ENGINEERING Co., Ltd. By stepping up from just a distributor and importer, we landed into the company with full ranges of industrial machinery service, with teams of skilled engineers and with experts in after-sales service including the installation service and maintenance for supporting the domestic industry.
Further development
In 2004, YONG HONG ENGINEERING Co., Ltd. had gained more trust and acceptance from customers caused the establishment of YONG HONG (THAILAND) Co., Ltd. for accommodating more intricate and high tech products. This establishment resulted in the segmentation in product categories which provided the customers more expertise in each category. There are specialized engineers giving an advice on product purchasing specification. There are teams of technicians and mechanics for servicing. Nevertheless, the transportation development, by increasing the amount of delivery trucks as well as the sales offices and warehouses, aids to provide fast and covered delivery area.
Endless development
YONG HONG ENGINEERING Co., Ltd. and YONG HONG (THAILAND) Co., Ltd. remain committed to the continuous development by expanding to ASEAN level and stepping towards manufacturer; including full range exporting the quality and the best service for our beloved customer.
BUSINESS: Industrial machine importer and distributor together with after-sales services.
– WATER PUMP AND WASTEWATER TREATMENT SYSTEM We choose the world class equipments utilized in water supply system and various wastewater treatment systems to accommodate the needs of the industry which uses water as a primary factor. Examples of equipments are water pump, agricultural pump, submersible pump, high pressure pump, multistage pump, centrifugal pump, chemical pump and gear pump.
– HOIST AND CRANE SYSTEM For business expansion, hoist and crane system (material handling) become compulsory. It provides freedom in moving and levels up productivity. YONG HONG realizes on this advantage. We import and distribute machines for transferring heavy objects, materials or constructions such as chain block, electric chain hoist, trolley, wire rope winch, spring balancer and together with rail and crane system. Our engineering team is ready to advice on purchasing and installation.
– BURNER AND HEATING SYSTEM Since Thailand has been industrialized a lot for last decades, all types of machines are needed, including burners. Variety of burners is available according to fuel type such as light oil (diesel), heavy oil or gas. They are suited for applications requiring heat for example industrial furnaces/ovens, wastes incinerator, smokeless crematory, boiler and hot oil generator.
– VACUUM PUMP As technology has advanced, production becomes more complex and specialized. For business that requires strong vacuum suction or pressure such as Science and Medicine sector including industry, we provide variety of vacuum pumps for sucking and blowing, both lubricated and oil-free type.
– SPECIALIZED PRODUCT We are the only importer in Thailand with the team of experts in technical and after-sales services for specific tools and machines 'applications such as fish farm group, wastewater treatment group, high-rise building waterworks group. Our specialized products are oil free silent air pump, gear pump for high viscosity liquid, and pressure vessel for preventing water hammer in high rise building.
– ELECTRIC MOTORS AND GENERAL TOOLS To support the industrial diversification, we have been discovering products for electrical systems, mechanical systems, motors and pumps together with power tools, car maintenance tools and numerous miscellaneous tools; from small to large, from simple to complicated applications; which can be applied to any form of current industry.
– TOOLS AND MACHINES FOR CHEMICAL APPLICATION Because of the high corrosion and viscosity in various chemicals, we have a department specializing in the utilization of these chemical machines such as diaphragm pump, metering pump, lobes pump and measuring tools. Also, engineers with the expertise for advising on the selection and instalment are available at customer's service.
TRADE PARTNERS
Regarding to our philosophy, quality products create customers' satisfaction, we only select for and provide well qualified machines from topnotch companies around the world. We are not only doing as purchasers and vendors with suppliers but under the principal of confidant and trade partner aiming to create long periods of association, we are receiving helpful assistances from various partners and transforming it into premium services for our customer. Some of the business and trade partners are clarified below.
MITSUBISHI (JAPAN)

MAKITA (JAPAN)

TSURUMI (JAPAN)

HIBLOW, Techno Takatsuki (JAPAN)

SANCO (JAPAN)

ELEPHANT Corp. (JAPAN)

ORIENTAL KOSHIN (JAPAN)

OP (JAPAN)

KAMIUCHI (JAPAN)

OLYMPIA (JAPAN)

TOYO KOKEN (JAPAN)

HUZIE (JAPAN)

REX (JAPAN)

ASADA (JAPAN)

SANSO (JAPAN)

GAST Manufacturer (USA.)

Little GIANT (USA.)

JUN-AIR (DENMARK)

KRANZLE (GERMANY)

ZILMET (ITALY)

ANNOVI (ITALY)

CUCCHI (ITALY)

MARELLI (ITALY)

LEADER (ITALY)

BAUMAN (ITALY)

HYUNDAI (KOREA)

SUK YOUNG (KOREA)

SAMKOOK (KOREA)

BESTECH (KOREA)

WOOSUNG (KOREA)

LONG TECH (TAIWAN)

RHINOS (TAIWAN)

WINCH (TAIWAN)
ASSOCIATED INDUSTRIES
Over than 60 years that our company has served the customers and numerous related industries such as
– Electronics and electricity industry
– Automobile and spare part industry
– Agriculture and fishery
– Steel and construction material industry
– Plastic and molding industry
– Print industry
– Garment industry
– Food industry
– Medical supply and lab experimentation
– Wood and lumbering industry
– Rubber industry
– Construction and civil engineer industry
– Waste disposal and sewage
– Normal household customers
– Municipality and Government
These customers and industries that trust in the company are from both the government and private sector such as
– Metropolitan Waterworks Authority (Thailand)
– Provincial Waterworks Authority (Thailand)
– Matsushita Electric Component (Thailand) Co., Ltd.
– Mitsubishi Electric Corporation Ltd.
– Toshiba Consumer Corporation Ltd.
– Kansai paint Co., Ltd.
– Yorozu (Thailand) Co., Ltd.
– Aqua Nishihara Corporation Ltd.
– Unocal Co., Ltd.
– 3M (Thailand) Co., Ltd.
– BlueScope Steel Thailand Co., Ltd.
– Nestl? food (Thailand) Co., Ltd.
– PTT Public Company Ltd
– Thai Airways International Public Company Ltd.
– Thai Beverage Public Company Ltd.
– Mahajak Development Company Ltd.
– Thai Lubricant Co., Ltd.
– Chaitip Co., Ltd.
– TOA Group Co., Ltd.
– Bangkok Airways Public Company Limited