Submersible Ejector Pump
KIRA EP Series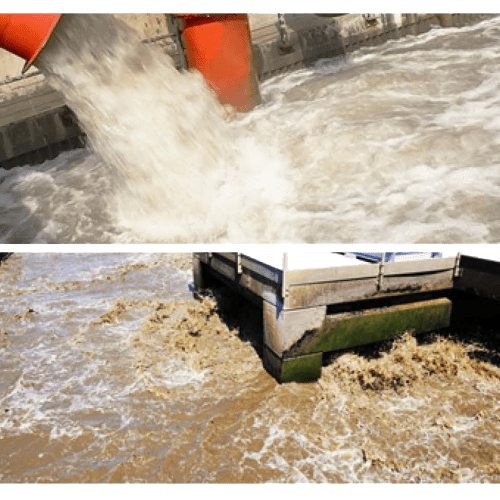 KIRA EP Series Applications
Pre-aeration and mixing in wastewater treatment system Oxygen supply to a slurry treatment tank Air supply to aquaculture farm or fish pond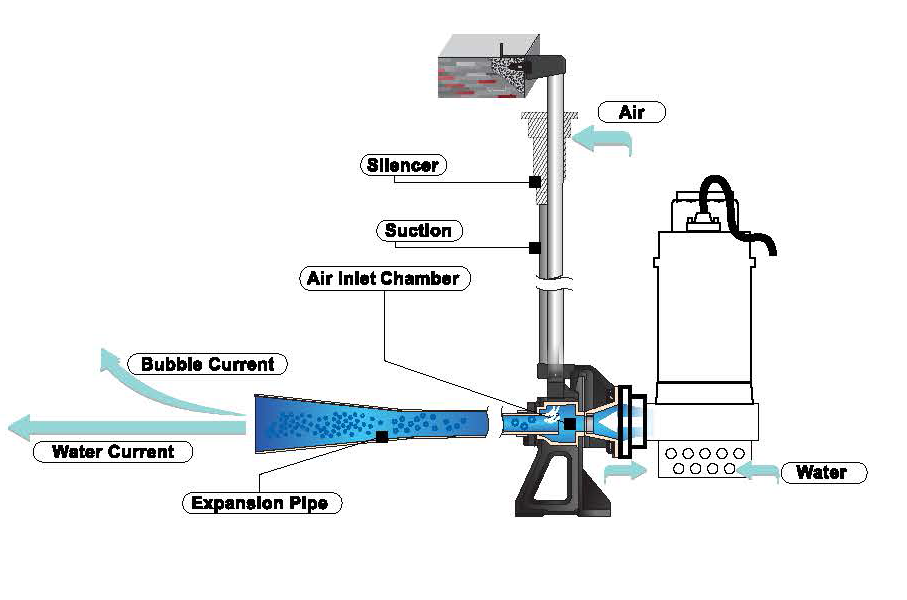 KIRA EP Series Features
Special mix nozzle design provides high air flow with plenty of small air bubbles. This increases rate of oxygen supply.
Special nozzle creates strong single airjet current direction and is enable vertical stirring movement.
Low noise concept comes with submersible ejector type. Pump operates silently under water while it saves installation space.
Easy installation and maintenance by using guide rail system makes system last long.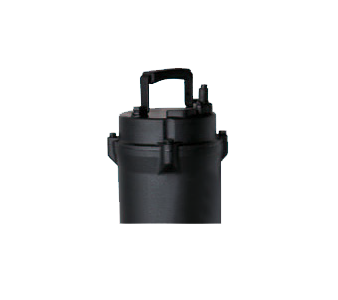 High Solids Epoxy Coating
KIRA EP Series High solids expoxy coating is used to provide good resistance to wastewater, water contain chemical* or sea water*. Expoxy coating reduces speed of corrosion and extends life span of pump. resistance is up to mild level of chemical and sea water. Please consult your dealer for intense level liquid.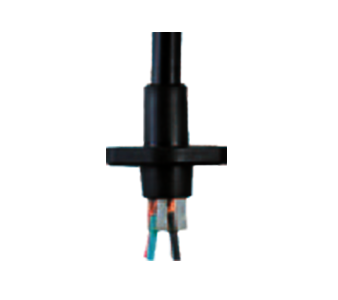 Epoxy Cable Base
KIRA EP Series All cables are seals firmly by rubber cup and filled with thick layer of epoxy resin at the cable entry. This expoxy resin prevents moisture entering through cable into motor caused by suction force in motor chamber.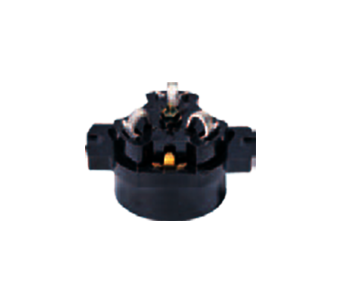 Motor Protector
KIRA EP Series The motor protector will be activated and cut power off automatically when motor run in abnormal electric current or temperature. This auto-cut protector will be self reset the motor when it returns to normal. The auto-cut protector is installed in the motor and no outside connection required. It is standard equipment in pump up to 7.5kW.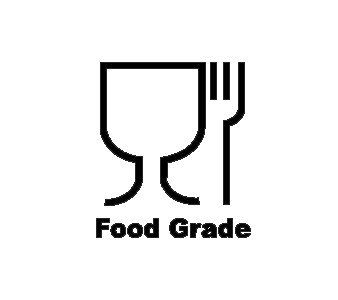 Food Grade Lubricant
KIRA EP Series All pumps are filled with non toxic lubricant to follow company philosophy "JUNSUI" or pure water for good environment. This lubricant is food grade FDA standard, eco friendly and low impact on aquaculture farming.

Mechanical Seal
KIRA EP Series All pumps are equipped with double mechanical seal. Strong abrasion resistant mechanical seal composes of best grade silicon carbide to ensure the best seal performance.

High Efficiency Dry Motor
All stator coils are insulated by quality varnish under the automatic production line. This ensures the best insulation and durability.
KIRA EP Series Submersible Ejector Pump  Specifications
KIRA EP Series EP2.8-1S,EP21.5-1.25S,EP22.2-1.25S,EP2.8-1,EP21.5-1.25,EP22.2-1.25,EP43.7-2,EP45.5-2
Motor
Body
Frequency
50/ 60Hz
Impeller
Semi open (Channel)
FC200
Phase
Three-phase (Single-phase upon request)
M.seal
Double mechanical seal
CA/CE & SiC/SiC
Motor
Dry submersible induction motor
Bearing
Ball type
2P (up to 2.2kW)/ 4P (3.7 – 5.5kW)
Upper Cover
FC200
Motor Frame
Stainless steel
Insulation
Class B (up to 2.2kW)/ Class F (3.7 – 5.5kW)
shaft
Stainless steel
Protection
IP68
Casing
FC200
Protection Device
Auto-cut protector (built-in)
Diffuser
Stainless steel
Cable
VCT or H07RN-F or SJOW/SOW
                                                                                 Application          Waste water, Sewage and Aeration in Farming
                                                                                 Liquid                 Temp 0 – 40 C (32 – 104 F)
KIRA EP Series Submersible Ejector Pump  Performance curves
KIRA EP Series EP2.8-1S,EP21.5-1.25S,EP22.2-1.25S,EP2.8-1,EP21.5-1.25,EP22.2-1.25,EP43.7-2,EP45.5-2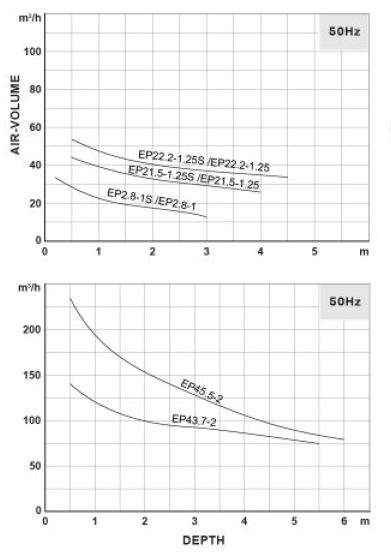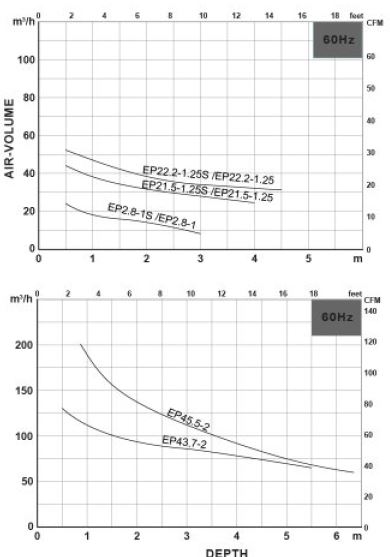 KIRA EP Series Submersible Ejector Pump Performance Specifications
KIRA EP Series EP2.8-1S,EP21.5-1.25S,EP22.2-1.25S,EP2.8-1,EP21.5-1.25,EP22.2-1.25,EP43.7-2,EP45.5-2
Model
Moror Output
Air -inlet Bore
Air Volume Depth
Max Water Depth
Capacity
Solids Passage
Weight (kg.)
Cable
Tank Max Dimension (m.)
Accessories
1Ø
3Ø
kW
mm.(inch)
m3/h(m)
m.
m3/h
mm.
1Ø
3Ø
m
ยาว
กว้าง
สูง
Ejector
Guide Rail
KIRA EP2.8-1S
KIRA  EP2.8-1
0.75
25 (1″)
15.5 (2.5)
3
21
20
19
18
8
3
2
7
BEP-1AP
TEP-1AP
KIRA  EP21.5-1.25S
KIRA  EP21.5-1.25
1.5
32(1 1/4")
26(3)
4
51
20
34
30
8
4
3.5
4
BEP-11/4BP
TEP-11/4BP
KIRA  EP22.2-1.25S
KIRA  EP22.2-1.25
2.2
32(1 1/4")
38(3)
4.5
60
20
37
32
8
5
5
4.5
BEP-11/4BP
TEP-11/4BP
–
KIRA  EP43.7-2
3.7
50(2″)
90(3)
5.5
78
35
71
8
6
6
5
BEP-2CP
TEP-2CP
–
KIRA  EP45.5-2
5.5
50(2″)
130(3)
6
132
35
112
10
7
7
6
BEP-2D
TEP-2D

KIRA EP Series Submersible Ejector Pump  Dimensions
KIRA EP Series EP2.8-1S,EP21.5-1.25S,EP22.2-1.25S,EP2.8-1,EP21.5-1.25,EP22.2-1.25,EP43.7-2,EP45.5-2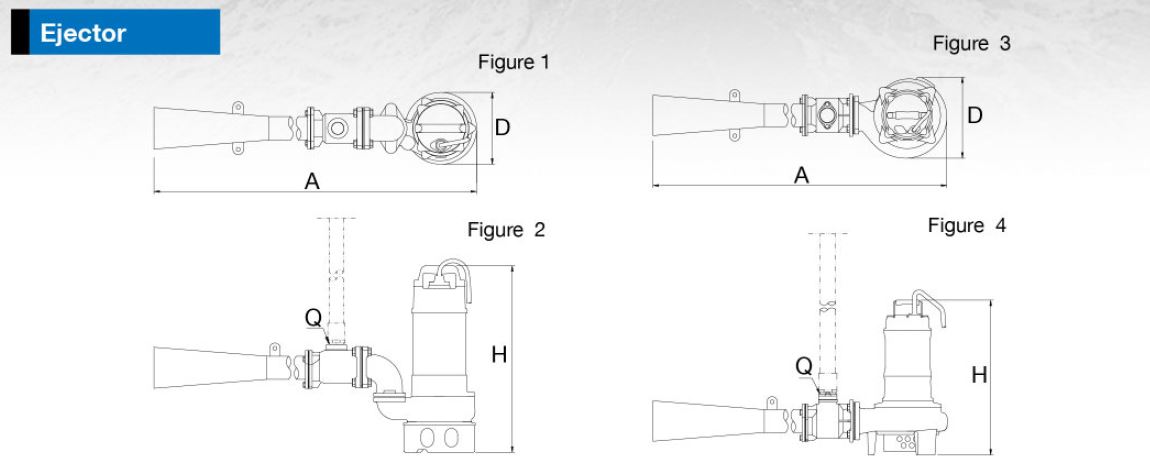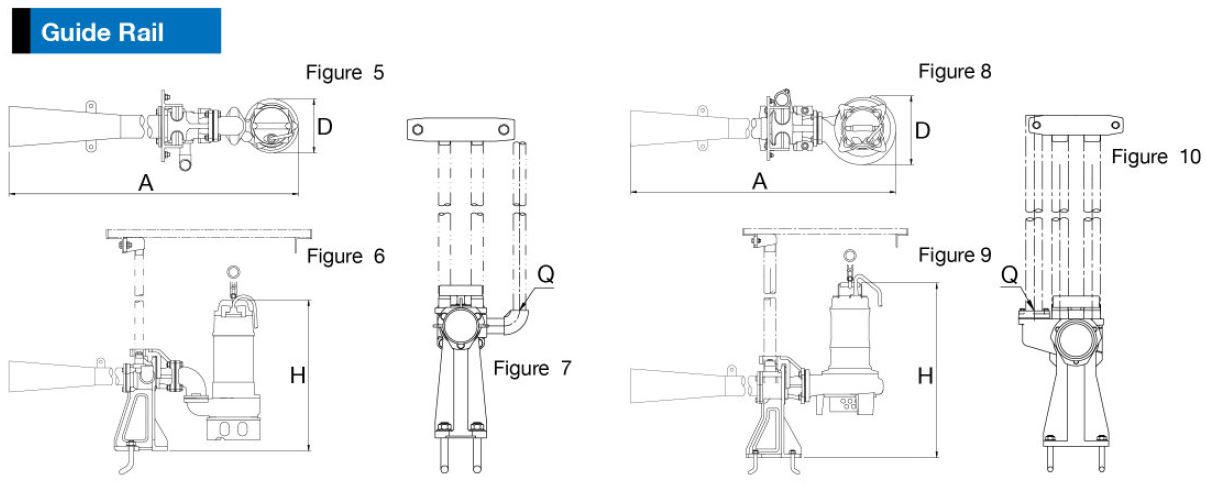 Type

Model

A

D

H

Q (inch)

Remark

10

30

Ejector
KIRA  EP2.8-1S
KIRA  EP2.8-1
712
173
450
1″
Figure1 & Figure 2
KIRA EP21.5-1.25S
KIRA EP21.5-1.25
881
207
520
1 1/4 "
Figure 3 & Figure 4
KIRA  EP22.2-1.25S
KIRA EP22.2-1.25
881
207
520
1 1/4"
Figure 3 & Figure 4
–
KIRA EP43.7-2
1113
314
638
2″
Figure 3 & Figure 4
–
KIRA EP45.5-2
1380
374
786
2″
Figure 3 & Figure 4
Gulde Pall
KIRA  EP2.8-1S
KIRA  EP2.8-1
742
173
485
1″
Figure 5 & Figure 6 & Figure 7
KIRA  EP21.5-1.25S
KIRA EP21.5-1.25
900
207
596
1 1/4"
Figure 8 & Figure 9 & Figure 10
KIRA EP22.2-1.25S
KIRA  EP22.2-1.25
800
207
596
1 1/4"
Figure 8 & Figure 9 & Figure 10
–
KIRA  EP43.7-2
1133
314
832
2″
Figure 8 & Figure 9 & Figure 10
–
KIRA  EP45.5-2
1402
374
913
2″
Figure 8 & Figure 9 & Figure 10
Yonghong(Thailand)Co.,Ltd.We are Import and distribution KIRA PUMP And Industrial Products as Submersible pump,Wastewater Pump,Aerator pump,Ejector pump,Submersible Ejector pump,Submersible Aerator pump