Tsurumi 50PU SERIES
TSURUMI : Submersible Pumps
Sewage & Wastewater
Led by aruguably the best cutter pump on the market today, our powerful and versatile sewage pumps confirm Tsurumi's commitment to this growing market segment. Through the use of an adapter, our pumps are compatible with guide rail systems making pump replacement quick and easy while saving you time and money on entire rail systems.
Durable and compact. From our powerful sand and trash handling pumps to our efficient dewatering and residue/utility pumps, Tsurumi can meet your applications.
Let us assist you in choosing the correct model that will handle your needs and save you time and money.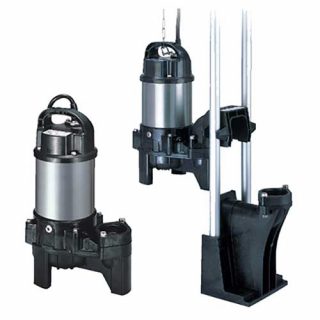 50PU/PUA SERIES

Vortex Impeller Water Pump
Tsurumi 50PU/PUA SERIES Specifications
50PU2.4S,50PU2.4,50PU2.75S,50PU2.75
Model 
Discharge Bore
Motor Output
Phase 
Starting Method 
Solids Passage
(mm)
(kW)
(mm)
50PU2.4S
50
0.4
1-phase
Capacitor Run
35
50PU2.4
50
0.4
3-phase
D.O.L.
35
50PU2.75S
50
0.75
1-phase
Capacitor Run
35
50PU2.75
50
0.75
3-phase
D.O.L.
35
Tsurumi 50PU/PUA SERIES Dimensions
50PU2.4S,50PU2.4,50PU2.75S,50PU2.75
Model 
Discharge Bore (mm) 
Dimension LxH mm 
Free Standing
Guide Rail Fitting
50PU2.4S
50
236×360
236×374
50PU2.4
50
236×360
236×374
50PU2.75S
50
236×3380
236×394
50PU2.75
50
236×374
236×388
บริษัท ย่งฮง (ประเทศไทย) จำกัด นำเข้า และจัดจำหน่าย ซูรูมิปั๊ม (TSURUMI PUMP) มีทั้ง ปั๊มน้ำเสีย, ปั๊มซับเมิส,  submersible pump, ปั๊มระบบน้ำเสีย, ปั๊มระบบน้ำดี, เครื่องเติมอากาศน้ำเสีย, แอร์เรเตอร์, อีเจคเตอร์, submersible sewage, ปั๊มระบบบำบัด, ปั๊มดูดตะกอน, เครื่องเป่าลมแบบจุ่ม, เครืองเป่าลมใต้น้ำ, เครื่องสูบน้ำซูรูมิ