TSURUMI KTZ21.5, TSURUMI KTZ22.2, TSURUMI KTZ23.7, TSURUMI KTZ31.5, TSURUMI KTZ32.2, TSURUMI KTZ33.7, TSURUMI KTZ35.5, TSURUMI KTZ43.7, TSURUMI KTZ45.5, TSURUMI KTZ47.5, TSURUMI KTZ411, TSURUMI KTZ67.5, TSURUMI KTZ611
TSURUMI : Submersible Pumps
Sewage & Wastewater
Led by aruguably the best cutter pump on the market today, our powerful and versatile sewage pumps confirm Tsurumi's commitment to this growing market segment. Through the use of an adapter, our pumps are compatible with guide rail systems making pump replacement quick and easy while saving you time and money on entire rail systems.
Durable and compact. From our powerful sand and trash handling pumps to our efficient dewatering and residue/utility pumps, Tsurumi can meet your applications.
Let us assist you in choosing the correct model that will handle your needs and save you time and money.
KTZ pumps are designed to withstand the most demanding conditions, including those found in the highly abrasive waters of construction, aggregate, and mining dewatering. Versatility is increased as each pump model has the capability of easily converting between high head and high volume performance with a simple change of the impeller and wear plate.
Discharge sizes from 2-6 inches and horsepower range from 2-15 hp.
Utilizes 2-pole, 3600 rpm motors to achieve higher heads.
High pressure rated mechanical seals are isolated to provide superior motor protection.
Rugged cast iron construction.
Pressure relief ports and exclusive oil lifter extend mechanical seal life, eliminating premature wear and failure in high head operations.
Internal thermal motor protection.
Anti-wicking cable entrance.
TSURUMI KTZ Series Specifications
KTZ21.5,KTZ22.2,KTZ23.7,KTZ31.5,KTZ32.2,KTZ33.7,KTZ35.5,
KTZ43.7,KTZ45.5,KTZ47.5,KTZ411,KTZ67.5,KTZ611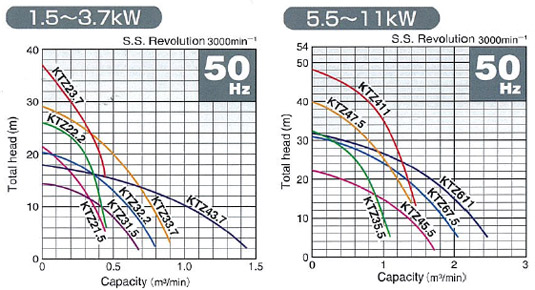 Model  

Discharge

Motor Output

Flow MAX

Head MAX

Phase  

Maximum voltage

material

Impeller material

material Casing

Bore

(mm.)

(kw.)

(m3/min)

(m.)

(V)

KTZ21.5
50
1.5
0.43
21.5
3 เฟส
380-415
เหล็กหล่อ
เหล็กโครเมี่ยมสูง
เหล็กหล่อ
KTZ22.2
50
2.2
0.5
26
3 เฟส
380-415
เหล็กหล่อ
เหล็กโครเมี่ยมสูง
เหล็กหล่อ
KTZ23.7
50
3.7
0.45
36.5
3 เฟส
380-415
เหล็กหล่อ
เหล็กโครเมี่ยมสูง
เหล็กหล่อ
KTZ31.5
80
1.5
0.67
14.4
3 เฟส
380-415
เหล็กหล่อ
เหล็กโครเมี่ยมสูง
เหล็กหล่อ
KTZ32.2
80
2.2
0.8
20.4
3 เฟส
380-415
เหล็กหล่อ
เหล็กโครเมี่ยมสูง
เหล็กหล่อ
KTZ33.7
80
3.7
0.9
29
3 เฟส
380-415
เหล็กหล่อ
เหล็กโครเมี่ยมสูง
เหล็กหล่อ
KTZ35.5
80
5.5
1.1
32
3 เฟส
380-415
เหล็กหล่อ
เหล็กโครเมี่ยมสูง
เหล็กหล่อ
KTZ43.7
100
3.7
1.44
18
3 เฟส
380-415
เหล็กหล่อ
เหล็กโครเมี่ยมสูง
เหล็กหล่อ
KTZ45.5
100
5.5
1.75
22.5
3 เฟส
380-415
เหล็กหล่อ
เหล็กโครเมี่ยมสูง
เหล็กหล่อ
KTZ47.5
100
7.5
1.4
40
3 เฟส
380-415
เหล็กหล่อ
เหล็กโครเมี่ยมสูง
เหล็กหล่อ
KTZ411
100
11
1.44
84.5
3 เฟส
380-415
เหล็กหล่อ
เหล็กโครเมี่ยมสูง
เหล็กหล่อ
KTZ67.5
150
7.5
2.04
31
3 เฟส
380-415
เหล็กหล่อ
เหล็กโครเมี่ยมสูง
เหล็กหล่อ
KTZ611
150
11
2.44
32.5
3 เฟส
380-415
เหล็กหล่อ
เหล็กโครเมี่ยมสูง
เหล็กหล่อ
TSURUMI KTZ Series Dimensions
KTZ21.5,KTZ22.2,KTZ23.7,KTZ31.5,KTZ32.2,KTZ33.7,KTZ35.5,KTZ43.7,KTZ45.5,KTZ47.5,KTZ411,KTZ67.5,KTZ611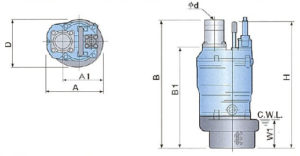 Model 
d
A
A1
B
B1
D
H
C.W.L.*
Cord length
(mm)
(mm)
(mm)
(mm.)
(mm)
(mm)
(mm)
(mm)
(m)
KTZ21.5
50
235
173
509
401
216
478
120
8
KTZ22.2
50
235
173
529
421
216
498
120
8
KTZ23.7
50
283
208
627
504
252
637
150
8
KTZ31.5
80
235
173
509
401
216
478
120
8
KTZ32.2
80
235
173
529
421
216
498
120
8
KTZ33.7
80
283
208
627
504
252
637
150
8
KTZ35.5
80
306
218
671
548
259
688
150
8
KTZ43.7
100
283
208
642
504
252
637
150
8
KTZ45.5
100
306
218
686
548
259
688
150
8
KTZ47.5
100
330
240
764
626
314
687
190
8
KTZ411
100
373
260
806
645
350
740
190
8
KTZ67.5
150
330
240
799
626
314
687
190
8
KTZ611
150
373
260
826
645
350
740
190
8
บริษัท ย่งฮง (ประเทศไทย) จำกัด นำเข้า และจัดจำหน่าย ซูรูมิปั๊ม (TSURUMI PUMP) มีทั้ง ปั๊มน้ำเสีย, ปั๊มซับเมิส,  submersible pump, ปั๊มระบบน้ำเสีย, ปั๊มระบบน้ำดี, เครื่องเติมอากาศน้ำเสีย, แอร์เรเตอร์, อีเจคเตอร์, submersible sewage, ปั๊มระบบบำบัด, ปั๊มดูดตะกอน, เครื่องเป่าลมแบบจุ่ม, เครืองเป่าลมใต้น้ำ, เครื่องสูบน้ำซูรูมิ